Free Updates & Support: You Need It, We Gladly Provide It.
Our #1 priority is you, the user. We believe in our product and hold ourselves to the highest standards. We truly care about your site as much as you do, which is why we offer the best support around at our dedicated support center. In addition, Avada constantly offers free updates with new features requested by our users. You can count on us.
Incredible Features: The Proof Is In The Pudding
Avada is loaded with useful features, each one with its own meaningful purpose. We listen to our users and integrate their feature requests on a regular basis. Avada is not only built by us, but also by our users.
Shortcodes: We Make Them, You Use Them.
Shortcodes are the backbone of page design for any theme, and Avada offers a huge set. We include all the standard shortcodes and also a wide variety of unique shortcodes, each with their own amazing options to customize to your heart's content. Avada shortcodes allow you to build a variety of pages, and with our shortcode generator it's not only useful, it's fun.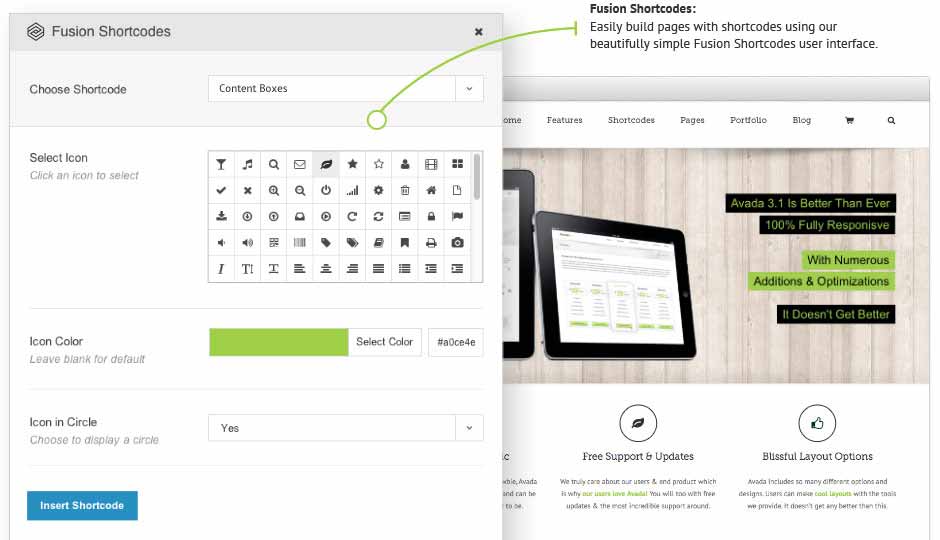 Layout Options: Decision, Decisions, Decisions
Avada does not limit you to one setup, we prefer to give you options. From boxed layout to wide, left sidebars to right and multiple headers; we let you decide. That's right, you can have your cake and eat some too.
"This is the Best Theme I have ever seen."
"WOW I dont really know what else to say. This is the Best Theme I have ever seen. I am a full time web dev, and this theme blows me away. I wanted to thank you for all your hard work. I am really looking forward to building my new site! I think you thought of everything and then some. Thank you so much for this theme, WOW- AMAZING!" – MarketingMonsters
Thank you for your very professional and prompt response. I went to look for answers to my own questions and quickly realized that the information I was requesting was very easy to find. As were the videos and the instructions. In fact everything has been perfect so far. This is by far the most well supported theme I have ever had the pleasure to work with. Lots of wonderful options. I wished I had found you before I spent money on a competitors theme. Thanks again for the great support and for a great product.
If I could give 100 stars for support and attention to detail I definitely would. I've purchased a good number of WordPress themes from various developers that look good on Themeforest but after you buy them you find numerous problems, bugs, crazy admin and very very poor support. I purchased the Avada theme and there were a couple of problems too, but the guys from ThemeFusion were remarkable – I really mean this. The speed of support and attention to detail is quite phenomenal. You will be extremely pleased.